Home Shifting in Rainy season?
Home shifting in rainy season ? Home Shifting is always a task which required Time to Settle Down Whether Moving to Local or Moving Domestics and If Its rainy Season then it will be Like Double Header Sunday IPL Matches 🙂 There are various precautions you may take to ensure a smooth and secure transfer while moving residences
during the rainy season. Here are some crucial suggestions to have in mind:
Home shifting in rainy season Here is Complete Guide for Moving in the monsoon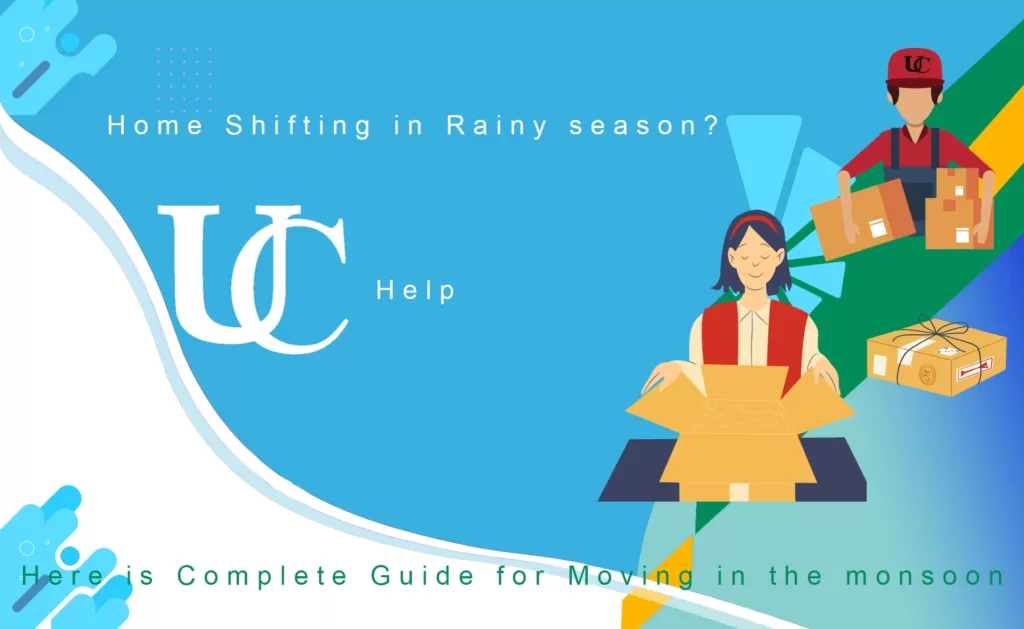 Monitor weather conditions:
Follow the forecast to be prepared for storms or periods of heavy rain. If there is a forecast for dangerous weather, you might choose to reschedule your move.
Also read : How to Get Best Domestic Relocation Services
Protect your belongings:
To avoid water damage while moving your furniture, electronics, and other delicate things, Always use waterproof packaging materials like plastic coverings or tarps (Lamination Packing)
Pack strategically:
To stop water from leaking in, pack your valuables in waterproof containers or zip-top plastic bags. To ensure that your boxes stay intact throughout transit, choose strong boxes and reinforce them with packing tape.
Also read: Important Thing You Should Do Before Moving Out
Use Pallets when doing Home Shifting in rainy Season:
Use pallets or raised platforms to keep your possessions off the ground as you load the moving vehicle. In the event that the vehicle experiences leaks or puddles, this precaution will aid in preventing water damage.
Securely wrap furniture :
To stop moisture absorption, cover your furniture with waterproof covers or blankets and fasten them firmly. Stretch wrap might be used as an additional layer of defense.
Also read: How to get Best Packing way for Glassware and Fragile Items
Plan for extra time:
Because of the state of the roads or potential risks, rainy weather may result in delays. Travel time should be increased, and delays should be anticipated.
Hire professional movers for Home Shifting in rainy Season:
If at all possible, think about using expert movers (Like UrbanClap Movers :)) who have dealt with moves during inclement weather. They will be equipped with the know-how and tools required to guarantee a secure and effective removal.
Also Read: What Is The Transit Insurance How To Claim Insurance of Damaged Goods??
Ensure safety during the move:
When carrying anything in the rain, be sure to wear footwear with sufficient traction. Rainy weather can make surfaces slick. Exercise additional caution when using ramps or stairs.
Update your insurance:
To make sure your possessions are appropriately covered during the transfer, speak with your insurance provider. In the event of any unanticipated events, it's critical to have adequate insurance cover.
By following these precautions, you can minimize the risks associated with moving during the rainy season and protect your belongings from water damage.
Share this to your Friends or family: Home Shifting in Rainy season?
Remember, safety should be your top priority during the moving process. If the weather conditions worsen, consider rescheduling the move for a later date to ensure the well-being of everyone involved and the protection of your belongings.